Greetings and Welcome!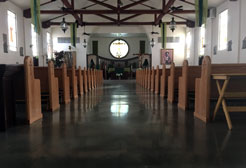 Well over fifty years ago, the famous French priest and anthropologist, Teilhard de Chardin, said that "we are in a time of crisis, like a present day John the Baptist." He said that we are approaching a critical threshold. Like John the Baptist who lived in critical and violent times and proclaimed, "Repent, for the kingdom of God is at hand," we must learn to think in a new and different way, for the time of opportunity is upon us. To repent means to move in a new direction. John the Baptist was calling his society to new opportunities, to a new way of thinking and living.
To repent means to turn and move in a new direction. Like John the Baptist, we live in urgent, violent, and critical times.
As Catholic Christians, as parishioners of St. Matthew's, we must make new and different choices, thus making the Reign of God a reality.
Read more...
When we are intentional about living our Catholic faith, when we are intentional about doing the works of justice and peace, new opportunities will arise. And the world will be less violent and chaotic.
I welcome you to St. Matthew's. I pray that you might find in our parish and school staff, women and men who are alive in the kingdom of God, women and men, in our parish catechetical program and in our school, who are teaching our children to think and be in light of the Gospel of Justice.
Be intentional about your Catholic faith. Choose to make the values of the Kingdom of God alive in your lives. It will only be "the act of freely loving others" during our critical time in history, that will bring about a new and blessed humanity to fulfillment in the light of the resurrection of Jesus Christ.
Choose to repent. In other words, move in and encourage others to move in new directions according to the teachings of Jesus Christ.
Peace,
Fr. Raymond J. Ritari
Pastor
Less
___________________________________________________